Mobile2020 has ended
Our project "More biking in small and medium sized towns of Central and Eastern Europe by 2020" (mobile2020) has ended. Read about our approach and achievements in our brochures "gaining momentum" and "keeping balance" or dive deeper into utility cycling with the mobile2020 handbook.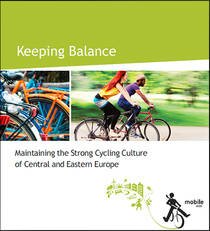 promotion
Getting people involved is essential to achieve long lasting results. For that reason, mobile2020 organized several events and competitions in eleven Central and Eastern European countries which allowed municipalities to show their achievements 'pro' cycling. Further, there was the opportunity for citizens to participate in the activities of mobile2020.
A 'pro-cycling' municipality contest allowed municipalities to demonstrate their achievements, plans and visions to make a daily use of bicycles more attaractive for their citizens.
In a video clip competition creative ideas were collected to promote cycling among citizens
Cycling tours were organized in each participating country to show good and back examples in one or more small and medium sized towns.